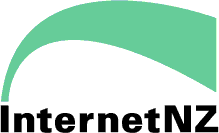 InternetNZ ICT Debate
Thursday 1 September 2005 7pm to 9pm
Welcome to the webcast from Auckland covering the debate on ICT issues. This debate has representatives from the major parties. Participants were
David Cunlife - Labour
Maurice Williamson - National
Mikaere Curtis - Green Party
This event was interactive and the public was able to pose questions to the candidates via IRC. The questions were be moderated and presented by local journalists attending the debate. This is to make the process managable.
Journalists were Paul Brislen - IDG and Kate McLaughlin - NBR
Moderator was Peter Dengate-Thrush
The IRC Channel Log file is here = Debate_Log.htm
Audio and video from the event can be watched by clicking on the links below. Several bit rates are available to suit connections speeds. The exact URL of each stream is also provided in case of difficulty. Paste these URLs into your windows Mediaplayer, if you have difficulty making the connection.
Note - the stream is viewed in Windows MediaPlayer - available for free from Microsoft. Linux users should use mplayer. Macintosh users can use the Microsoft Mediaplayer (for Macintosh) or mplayer. (or Totem)
Debate Video Record - http://www.r2.co.nz/20050901/ict-debate.asx - the actual stream is mms://L1.r2.co.nz/20050901/ict-debate.wmv
Credits
Moderator/Host - Peter Dengate-Thrush
INZ Project - Simon Riley, Keith Davidson, Colin Jackson
CityLink Project - Hamish Macewan
Staging - Ian Pyne - Show Light and Power
Cameras - Jeremy Naylor
Graphics - Jordan Carter
IRC Wranglers - Michael Wallmansberger, Collin Jackson, Keith Davidson, Simon Riley
IRC Management - Russel Garlick, Phillip Plane - Katipo Communications
Sanity checks - Simon Blake
VC equipment - Graham Moses - ASNET
Wellington Venue - MediaLab - Michael Gregg
Wellington Hosts - David Farrar, Phil O'Reilly
Network Management - Andy Linton
Network provided by BRCSS
Venue - Auckland University, Human Sciences Department - Graeme Glen
AoU Network - ITSS,
Copies are available on DVD, CD-ROM and VHS Tape. Contact InternetNZ for details.
How we did it.....
As you can see from the credits above, there were quite a few people involved in getting the event running.
The biggest problem was a change of date. Originally it was planned for 7 or 9 Sept, but had to be brought forward to 1 Sept. This somewhat truncated the planning process and affected some equipment availability.
Project oversight was by Keith and Simon at InternetNZ/NGI. Hamish managed the CityLink side of things.
Originally it had been planned to use the Access Grid for some areas to join in. This was canned when VUW became unavailable. The Access Grid nodes do work, but the number of trained operators with experience is limited. Bad press regarding an audio problem during the INZ AGM, put any node operators off making them available. Media representatives take note - you need to support this stuff.
The room at UoA had been visited a week before and was seen as OK. The Politicians confirmed the thursday before, but the tech team weren't sure of how many and always allowed for others to decide to get involved. The last planning meeting was on Monday, when the date of 1 Sept was confirmed.
Tuesday, any equipment borrowed was collected, van and trailer loaded, and the production team left for AKL at 1900. They arrived at 4am Wednesday.
Wednesday was spent getting the gear into the room (2-3 hours) and starting the setup. Show Light and Power (SLAP) came and checked on requirements. They were booked by cell phone during the drive to AKL.. Katipo confirmed that web based IRC was OK.
VC was advised as being unavailable until 1300 Thursday
Thursday
SLAP installed staging.
Green Room was fitted out with sound and video.
Production team area was patched, cameras rigged and lights rigged. VC arrived at 1530 for very quick install. Accoustic Echo canceller was bypassed. When using an external camera, the AEC is disabled. Decision, either we limit the cameras that WLG will see or try and switch AEC by hand (yukky).
1500 WLG crew still stuck at airpoirt. They arrived at 1700.
So the rig was 5 cameras. 4 remote controlled ones and one with Oper (Jeremy). The Oper cameras was 3CCD so its picture was much better. The 5 cameras, plus WLG video went into 2 video mixers. The video mixers have only 4 inputs, so one was a "pre-mix" to the other. Thanks to TVNZ Interactive for the loan mixer !! The video mix went via a Corio converter which used chroma-keying to do the graphics and slides, which were powerpoint slides at 72 point font. To avoid transparent slides, blue background with red letters was used. The rest of the slide was black, the chroma transparent colour.
The remote cameras, each had 6 preset shots setup. These were updated during the event as people didn't always sit in the same place. We found that we didn't need all the shots. There was a good shot of PDT, a good 2-shot of Kate and Paul and a 3 shot of the politicians. This 3 shot gave Jeremy time to get a decent frame of the active speaker. The 5th camera gave fill shots for variety.
Intercoms were provided for cameras, graphics operators and IRC wranglers. No IFB was available for PDT but the Director was right behind the curtain, so just spoke up !! ugly
Final video from graphics went to a bank of distribution amps. Feeds went to 2 projectors, 4 encoding PCs, a VHS VCR, a DV Hard Disk recorder, the VC unit and a DVD-recorder. There were about 5 DAs in use.
One encoder carried the audio and video feeds. One encoder carried the 2Mbps feed and nothing else. One encoder recorded a multi-bit rate archive to disk, and the final encoder was used for network management and was connected to the nearest server. 3 servers were used to provide delivery via anycast routing as well as fail over back up. All encoders could have managed the job on their own.
At 1855, Andy advised there was a duplex mismatch on the "studio" router causing major packet loss. A reboot was done. Risky but it worked.
1900 - still no running sheet. It never arrived. We flew. (on the video you can hear the voice "OK to go, Peter")
Issues - Accoustic Echo on WLG audio. No surprise. The studio had 6 very good mics and the WLG audio was on a 300W amp, so the audio was fed straight back to WLG. We had to mute all 6 mics to allow WLG audio to come through, at the same time switching the video on 2 mixers. On reflection, it may have been better to run the VC unit independently, just taking video and audio from it. This would have meant that WLG VC viewers would have had only one camera view, but would have avoided the echo issue. We need to experiment and do this more often.
---

© Copyright www.r2.co.nz, August 2005. All rights reserved.