A Christmas Message from the Team at R2
In past years, the R2 Team has made a donation instead of throwing a Christmas
party for friends and clients. These donations have been increasing numbers of
goats to families in Afghanistan via the TEAR Fund. This year we have contiunued
that tradition with a change. No goats.
During the year I watched a programme on TVNZ 7 about poor villages in Bangladesh,
where the villagers go into the fields at night for the toilet. There are NO
toilets at all in the village and using the fields where their food is grown
spreads disease. Moved by this (perhaps motivated is a better word), this year we
have donated a group of toilets via the TEAR Fund. They won't be nice toilets like
the attached photo, I'm sure, but anything is better than nothing. As the TEAR
Fund says,
"Reliable toilets and good sanitation systems are absolutely essential to
maintaining the health and well-being of growing children in poor communities. This
gift covers the cost of building a safe toilet in a rural village."
Giving toilets may seem like a strange gift, but for so many, it will be a gift of
life.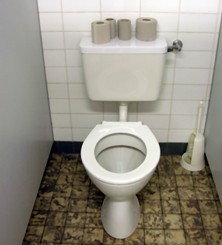 2009 has been a hard year. Our work has been down by 10% and at times things have
been difficult. But we have survived and look forward to 2010. Our work has been
quite mixed this year. We have had very few conferences, some interactive
"consultation" events and a wedding. We have been privileged to have been involved
in several funerals. Sad and sometimes tragic, they have all been wonderful
celebrations of lives well lived. It looks as though funerals will be our first and
last job of 2009.
We have worked on several internal "staff meetings" in organisations - some of
NZ's largest. This is a great use of the technology and in all cases has been well
received. This is a new development in the NZ market and shows growing acceptance
of webcasting as a tool.
Swine Flu came and went, thankfully leaving us unscathed.
We webcast two international conferences - in Beijing and Seoul, all from our home
base in suburban Tawa. We have also produced several video conferences.
A little known part of our business is installing and operating webcams. We added
one of our own this year, in the Beehive and it is proving popular when the Prime
Minister gives his post-Cabinet Media Conference. To announce these short notice
events, we have also started using Twitter. We can be followed at
www.twitter.com/R2rjn
To help make our content available we have been syndicating content. This allows
other media organisations to deep link into approved events making the event more
accessible to the wider community. This has grown audience sizes helping clients
get their message out. Audience growth of 300% is not unusual. We have also increased our usage of both Flash and Silverlight technologies, to improve useability and access to our content.
So as we close 2009, we look forward to a new year and a new decade and we look
forward to working with you again.
We wish you a very happy and safe Christmas.
Richard, Robin and Jeremy
at R2.Co.NZ
---
© Copyright WWW.R2.CO.NZ December 2009. All rights reserved