Interactive Breakfast Series
Tuesday 24 July 2001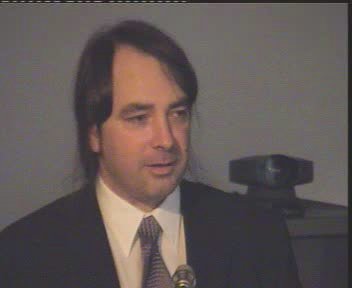 Internet-2
What is it and should you care ?

Speakers John Houlker, Neil James, Simon Riley

A coalition of USA 170 universities as well as research networks in Canada, EU and Australia plus a few dozen corporations
have been pooling their resources to build the Internet 2 framework, which researchers are now using to develop a variety of
futuristic, high-bandwidth applications.

Internet 2 is built on a foundation of several networks capable of carrying data at dizzying speeds using connections up to 3
gigabits per second.

For example, research teams at Stanford University are using Internet 2 to develop a variety of long-distance applications: a
robotic helicopter that can be remotely controlled by spoken commands, a system for transmitting three-dimensional models of
brain activity to remote locations, several videoconferencing courses involving students on multiple continents, and tools to
allow surgeons to collaborate on operations happening thousands of miles away.

Other applications are in the works, some of them commercial. A start up company called Teleportec has developed a
broadband conferencing system that produces the illusion of a three-dimensional hologram, so you can use the Net to project a
ghostly image of yourself, Princess Leia-like, onto a specially equipped lectern. The governor of Texas, Rick Perry, recently
used the system to address a crowd in Dallas without ever leaving his office in Austin.

Teleportec's system (which costs $70,000) is data-intensive, requiring 384 to 768 kbps of bandwidth, the Texas governor's
address last month was transmitted over the Internet 2 network.

Will Internet 2 supersede the current Internet? Not really. The purpose of Internet 2 is somewhat like that of the space program:
to produce lots of indirect benefits by funding primary research. So rather than actually building the next version of the Internet,
Internet 2 researchers hope to develop technologies and techniques that can later be applied to the public network by private
enterprise and the government. Using examples like Teleportec the results will be truly amazing.

There is a growing concern that New Zealand universities and research community are falling behind their international
counterparts in access to high bandwidth data services that are needed to support Internet 2 One suggestion is for the
establishment of a National Research and Education networking body which would collaborate with AARNet (the Australian
Research and Education network) in the purchase of international data capacity in order to fully participate in the opportunities
from Internet 2.

This new body could represent New Zealand in international forums on research and education networking, enabling New
Zealand to take place, in a peer relationship, in international initiatives such as the US Internet2 project.

The lack of progress even at the discussion level here in New Zealand regarding the opportunities presented by Internet 2 when
compared to Australia and Canada for example who have recently completed the first phase of Internet 2 networks does not
bode well for the future, particularly in the context of progressing the notion of a "knowledge economy ". Limitations are for the
most part not technical but rather the lack of the imagination.

Click here or on the image above to view the movie.


On Disk 2 you will find a video of the discussion that followed these presentations. (Inet-2-panel.mpg)

If you encounter difficulties, use Windows Explorer or Macintosh Finder, and look on the CD-ROM for the files with an extension of .mpg. This movie is viewable in Windows Media Player , Apple Quicktime or Real Player.

For viewers with Internet access, a version of this CD-ROm will be available on-line with the movie in different formats and different connection speeds. This is located at http://WWW.R2.CO.NZ/20010724. You may click on the movie on line, or use cut and paste to past the URL into Media Player, Apple Quicktime or Real Player.

Different versions and formats of this movie may be available on the internet web site.
---

© Copyright WWW.R2.CO.NZ. March 2001. All rights reserved.