Interactive Breakfast Series
Tuesday 29 May 2001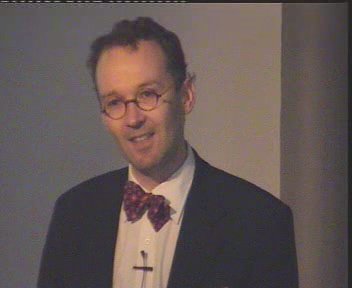 This Place is Ours
Speaker Nick Gerritsen, LLB, Solicitor, Rudd Watts & Stone
Nick Gerritsen is an experienced intellectual property/commercial lawyer with considerable private sector entrepreneurial experience. One key aspect of his practice is that he operates on a global basis and is able to prodive seamless linkages directly into international expertise such as the NASDAQ Stock Market.
For his presentation to Digital Wellington, Nick used real life examples to demonstrate initial strategy formulation through to global execution. Nick is very involved with the growing of the new media environment and has considerable experience in a number of sectors.

Software/technology development / venture capital
broadcasting/communications
culture/new media
Innovative/high yield, niche businessees particularly in the hospitality, restaurant and liquor and manufacturing sectors
Click here or on the image above to view the movie.

If you encounter difficulties, use Windows Explorer or Macintosh Finder, and look on the CD-ROM for the file pswain.mpg. This movie is viewable in Windows Media Player , Apple Quicktime or Real Player.

For viewers with Internet access, a version of this CD-ROm will be available on-line with the movie in different formats and different connection speeds. This is located at http://WWW.R2.CO.NZ/20010529. You may click on the movie on line, or use cut and paste to past the URL into Media Player, Apple Quicktime or Real Player.

Different versions and formats of this movie may be available on the internet web site.
---

© Copyright WWW.R2.CO.NZ. March 2001. All rights reserved.