Interactive Breakfast Series
Tuesday 24 April 2001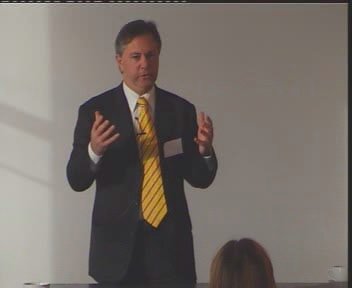 2001 and Beyond
Speaker Rt. Hon. Paul Swain
As a result of the major success of the Economic Summit in the latter part of last year Paul Swain spoke about and elaborated on the new developments, successes and the strategy that the government is putting in place as outcomes of the thinking behind the summit.
He had also just returned from a two week trip to Chile, the UK, Ireland and the USA - where he met with venture capitalists, expat New Zealanders and attended the Microsoft government leaders conference. Paul Swain shared some of the ideas and inspirations from that trip.
This was an opportunity to better understand the Government's thinking proposed for 2001 and beyond.
Click here or on the image above to view the movie.
If you encounter difficulties, use Windows Explorer or Macintosh Finder, and look on the CD-ROM for the file pswain.mpg. This movie is viewable in Windows Media Player , Apple Quicktime or Real Player.
For viewers with Internet access, a version of this CD-ROm will be available on-line with the movie in different formats and different connection speeds. This is located at http://WWW.R2.CO.NZ/20010424. You may click on the movie on line, or use cut and paste to past the URL into Media Player, Apple Quicktime or Real Player.
Different versions and formats of this movie are available on the internet web site. These are,

If you are pasting the locations into your media viewer, the full address is
http://WWW.R2.CO.NZ/20010424/pswain600.mpg
for the MPEG 600Kbps file.
---

© Copyright WWW.R2.CO.NZ. March 2001. All rights reserved.